<![if !IE]> <![endif]>

Grankärrsvägen 1
331 79 Horda
Sweden
+46 705619841

+46 370 654735

Horda Stans manufacture best quality products from a wide range of materials.
Horda Stans AB manufactures gaskets, sound absorbers, structure-born sound damping, condensation insulation, sealings, lamination, furniture components and much more in a variety of materials.
With our broad knowledge of materials, loyal workforce and flexible production methods, we manufacture absorbers, insulation, dampers, gaskets etc. for the automotive, engineering and furniture industries.
Our machine park comprises stamping machines, presses, saws, guillotines and laminating equipment.
Horda Stans AB has been certified for a long time by ISO/TS16949, a strict quality standard developed by the automotive industry. This is a guarantee that Horda Stans delivers the correct amount of the correct product within the correct time frame to you as our client.
We are also committed to reduce our environmental impact and hold an ISO 14001 certificate. Horda Stans achieved "Volvo Quality of excellence Award" after being rewarded as one of the most valued Volvo partners.
Environmental issues are always kept in our mind. Demands on the use of environmentally friendly materials and processes are increasing rapidly. We are continuously searching for new, environmentally friendly materials while we develop new materials together with our suppliers.
Recycling and Environment often go hand in hand with competitive prices and improved functions. Our flagship is Soundfelt REC, a sound absorbing material made of PET bottles and textile waste, which we have been involved in the development of through the demands of the furniture industry.
Galerie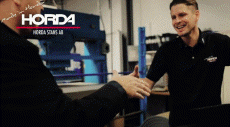 Products
Product groups
Press realeses
Target and outlet markets
Industriesector