Varied program: A preview of side events at interzum
12-May-2017
© Hornschuch, Formsitz Design, Arssedia, Koelnmesse
Special event area Individuality (Materials & Nature Piazza, Hall 6.1 and 10.2)
With its wide spectrum of products and concepts from international exhibitors, plus an excellent programme of events, interzum 2017 is a versatile platform: From 16 to 19 May, topics to be addressed at the fair will be new ideas on the current trends of furniture production and interior design. An overview of what is on offer in the supporting programme.
Visitors to interzum can obtain a comprehensive orientation at the two Materials & Nature Piazzas. Alongside exhibitor highlights in materials and surfaces, they will present current trends in these fields. Hall 10.2 will also host a wide-ranging programme of talks on developments in the sector – from design trends to technical issues.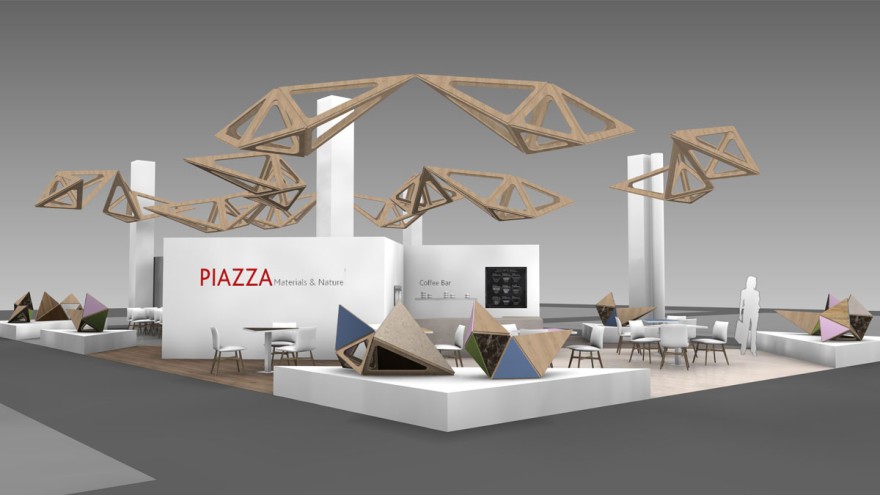 Piazza Materials & Nature, Hall 6.1 and 10.2
Special event area Circular Thinking (Innovation of Interior, Hall 4.2)
At the Innovation of Interior special event area in Hall 4.2, the exhibition "Circular Thinking – from Upcycling to Biofabrication" will be presenting new ideas for sustainable materials cycles. Special attention will be paid to current upcycling models, as well as the recycling of energy. Alongside materials, furniture and functional objects, innovative products will also be on display. Rounding off the event will be the congress "Circular Thinking", which will take place at interzum on 18 May.
Piazza innovation of interior, Hall 4.2
Special event area Mobile Spaces (Textile & Machinery Piazza, Hall 10.1)
The upcoming edition of interzum will be presenting trends in mobility in a dedicated special event area under the title of "Mobile Spaces". It will focus above all on "rolling spaces", examples of which include high-quality details in motorhome's interior, such as multi-layered furniture fronts and solid surface materials, have until now not been used in this segment. The "Pioneer" concept car from the surfaces specialist Hornschuch is another extraordinary mobile space that will be on show in the exhibition and that shows the impact a fresh understanding of mobility has on car interiors.
Piazza Textile & Machinery, Hall 10.1, photo: © Morelo
Special event area Digital 3D Surfaces (Piazza Hall 10.2/Stand D 80)
Leading manufacturers will present examples of digital industrial manufacturing using wood, ceramics, glass, textiles, metals and other materials. Experts will offer insights into technologies, software and services. They will cover the complete process chain. The exhibition will explore the choice of printers and inks as well as how complete solutions can be developed from a single source. It will offer inspiring examples of cutting-edge 3D printing technology.
Special event area Digital 3D Surfaces, Hall 10.2/Stand D 80, photo: © Arssedia
interzum award 2017 (Boulevard)
The interzum award: intelligent material & design recognises the best products by the international furniture supplier industry. Already in its ninth edition, the design competition is organised by Koelnmesse in collaboration with Red Dot. The winners will be honoured at the interzum opening ceremony on Monday 15 May. The winning exhibits will be on display during interzum on the trade fair's Boulevard.
interzum award, Boulevard, photo: © Koelnmesse